SD-WAN: Software-Defined Wide-Area Network is an application of Software-defined Networking technology applied to Wide Area Networks (WAN). SD-WAN simplifies the administration, management, and operation of a WAN by decoupling the networking hardware from its control mechanism. It connects enterprise networks — including branch offices and data centers — over large geographic distances.
In this blog, we have discussed the Top Best SD-WAN Companies & Providers available in the market. The information is gathered from various resources such as the Gartner WAN Edge Infrastructure report Published on 26 November 2019.
VMware
VMware is a publicly-traded company located in Palo Alto, California. It is estimated to have more than 5500 WAN Edge customers worldwide. VMware offers VMware SD-WAN by Velocloud. The VMware SD-WAN includes physical and virtual edge appliances, cloud getaways and orchestration. They can be on-premises or hosted by VMware or MSP. When the SD-Wan is combining with its gateways, it could offer enterprises a platform that is scalable for accessing cloud workloads. VMware can scale itself for large deployments. VMware offers 3 subscription levels and can align itself with use cases and price points. These use cases and price points are based on cloud connectivity and network scale.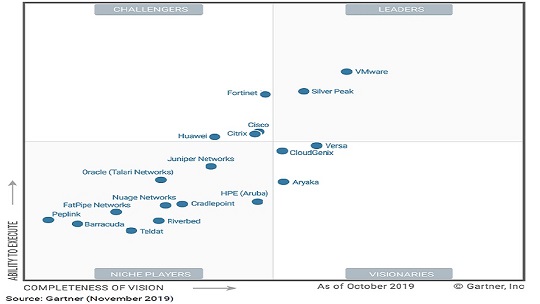 Silver Peak
Silver Peak is a private firm currently headquartered in Santa Clara, California. The company is estimated to have 3000 customers and more than 1500 on their WAN edge platform. Silver Peak's WAN edge product is widely known as Unity EdgeConnect SD-WAN appliances (eg. Physical, virtual, and Cloud). The Silver Peak SD-WAN is known to have optional Unity Boost WAN Optimization and Unity Orchestration. Silver Peak's products are available from a wide range of partners including multiple NSPs. Silver Peak's three main USPs are strong application performance, real-time optimization, and WAN optimization. But the vendor still lacks on its security capabilities.
Fortinet
Fortinet is a public company headquartered in Sunnyvale, California. It is estimated to have more than 21,000 WAN edge customers. Fortigate Secure SD-WAN stands strong in the SD-WAN Market. Fortigate is available in Network Function Virtualization (NFV), appliance, and via all major cloud marketplaces. Fortigate consists of a strong built in stack to its WAN Edge Architecture. It also comprises of NGFW, IPS/IDS, Decryption/Encryption, DNS Filtering, Secure Sockets Layer (SSL), and Anti-Virus.
For full article click here